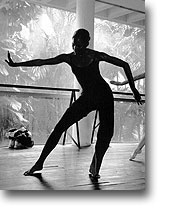 DANCE IN CUBA
Balcony Press 2005
A four year, seven visit project that Garcetti started in 2001has been the subject of exhibitions from coast to coast. In these photographs Gil Garcetti has captured the spirit and dynamism of the Cuban people whenever they dance. Garcetti's dramatic duotone photos capture the folk dancing, ballet, contemporary dance, and flamenco of Cuba's dance heritage as well as the thrilling modern street performances of daily life there. Dance in Cuba is Cuba as you have never seen it before - an island alive with dance!
"Mr. Garcetti is not a dance photographer; he was the Los Angeles County district attorney and has published two books of architectural photography and one about a television show. This may be an advantage: unlike much dance photography that seeks out moments of perfect line or poise, this exhibition(NYPL) shows both a human face and the sheer joy of movement, and Mr. Garcetti's architectural eye is apparent in the beautifully composed images."
- New York Times, Sept. 22, 2007
To purchase a copy, please visit www.balconypress.com.
© 2020 All Rights Reserved