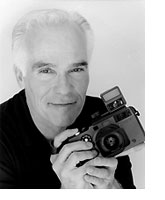 BIOGRAPHY
Gil's lifelong love for photography began with his first camera, a gift on his thirteenth birthday from his father, who was a barber in South Los Angeles. Through his photographs, Gil discovered he could share his unique vision of the world, finding beauty in the overlooked, as well as the grand.
Gil served as a prosecutor for 32 years in the Los Angeles County District Attorney, eight years as the District Attorney. As DA he was particularly focused on the arenas of domestic violence and crime prevention.  When he left office, his passion for photography became his profession, enabling him to continue to raise public awareness and pursue social change. The result: ten books of photography and dozens of photo exhibits and speeches worldwide. In 2003 American Photo magazine named him a Master photographer and a photographic prodigy. Gil still laughs about being referred to as a "prodigy" in 2003!
His first major project focused national attention on the iron workers who formed the bones of the iconic Walt Disney Concert Hall. The photographs received praise from critics and became a major exhibit at the National Building Museum in Washington D.C. Gil's second book on the Walt Disney Concert Hall, FROZEN MUSIC led to a Los Angele Times Magazine cover story. 
The book, WATER IS KEY, was a four -year project depicting the need for safe water in West Africa. It became a call to action. The photographs were exhibited worldwide, including the United Nations and UNESCO. In partnership with the organization Wells Bring Hope, funds were raised to dig and maintain hundreds of water wells, eliminating crippling diseases. Girls, who previously had spent their days carrying heavy buckets of water on their heads, now attended school. His book DANCE IN CUBA showed the world how dance and music brought joy to people living in poverty. JAPAN; A REVERENCE FOR BEAUTY, is a limited edition, hand-bound book exploring the exquisite beauty the people of Japan revere and need in their everyday lives. The photographs and essays beg the question: What can we learn from this ancient nation and culture that might make us a little better as a person or nation.
Gil's latest book, his tenth, is his first still life project: PROTEA: THE MAGIC AND THE BEAUTY. Answering the siren song of these exotic flowers that begged him to photograph them, he found that immersing himself in capturing their beauty alleviated his anxiety over the political turmoil consuming the nation. When a friend, a musician and conductor, offered his prose to accompany the photographs, the book was born. 
In addition to his photography, Gil became chairman of the California Science Center Foundation in 2019. He is a producer of the hit CBS series, ALL RISE, having been a producer of the TV series THE CLOSER and MAJOR CRIMES. Gil is a frequent speaker on subjects he photographs and on social change; he is a leader in the effort to eliminate the death penalty in California. He was a teaching Fellow at the Harvard University Kennedy School and President of the LA City Ethics Commission.


Photo: Mikel Healey