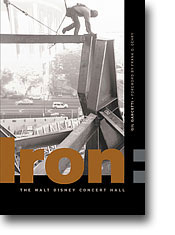 IRON
Balcony Press 2002
The photographs salute the ironworkers and other craft workers who helped build one of America's most famous buildings, the Walt Disney Concert Hall in Los Angeles. The artistry as well as the daredevil intelligence of the men and woman who worked on this most challenging project of their careers are recorded for posterity in this lush volume of photographs and interviews. Also captured is the extraordinary beauty of the curved and angled raw steel beams before being covered with the skin of the building.
"... his images have won rave reviews, not only from Mr. Gehry but also from the renowned architectural photographer Julius Shulman, who called them 'remarkable.' " "Theodore Stebbins Jr., a curator of American art at Harvard's Fogg Art Museum, said: 'I was amazed by Gil Garcetti's photographs, which go back to Lewis Hine and especially to Charles Sheeler. But his images are not derivative.' "
- Fred Bernstein, New York Times, November 17, 2002
To purchase a copy, please visit www.balconypress.com.
© 2020 All Rights Reserved